---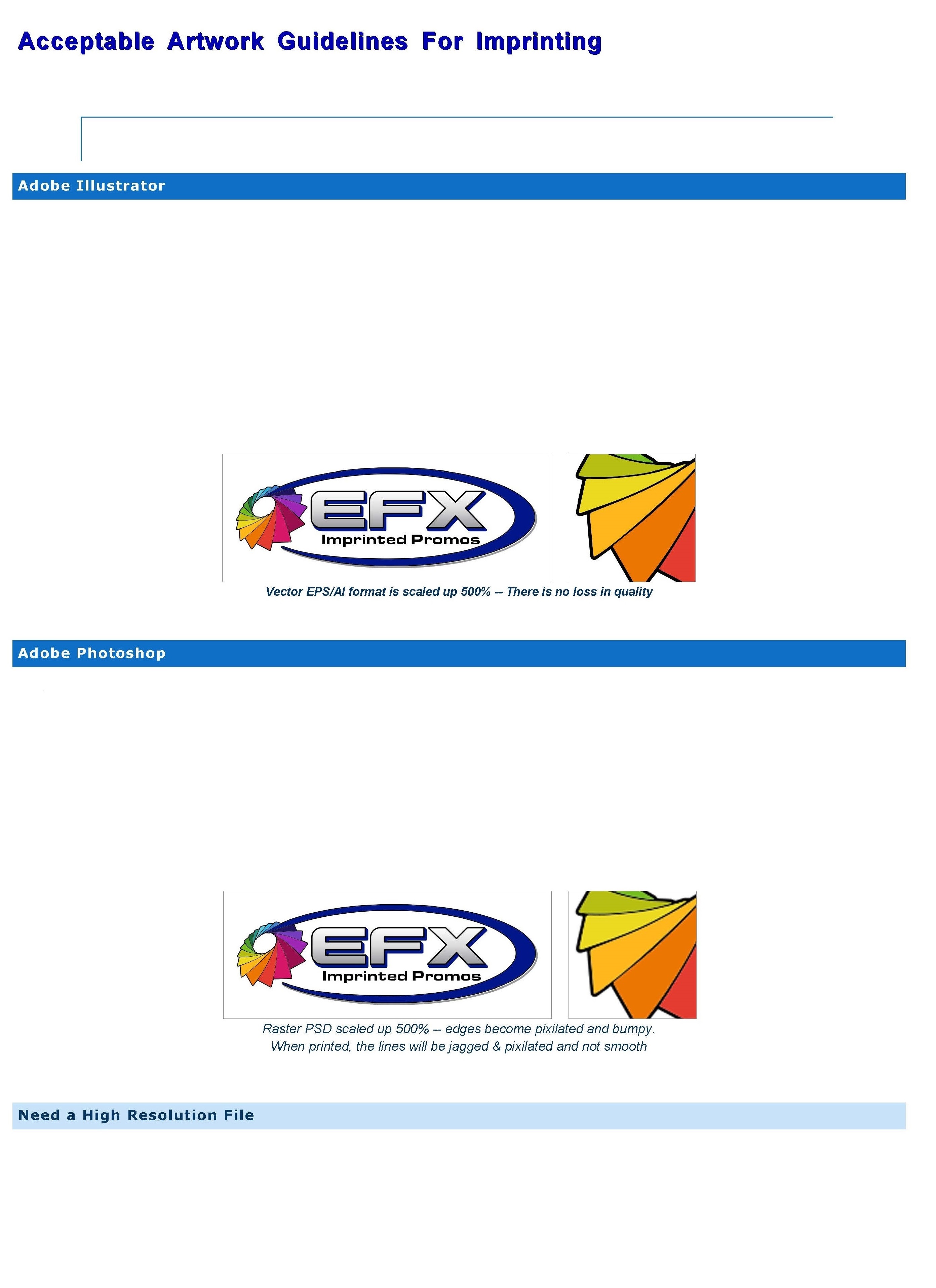 We use two of the industry standard programs that is used for creating graphics for print: Adobe Illustrator and Adobe Photoshop. Below
is a breakdown of the acceptable art file formats that we accept for all imprint orders.
Acceptable File Formats: High-res PDF, PSD, AI, EPS. Files must be vector format or originally created at a minimum of 300
DPI at final print dimensions.
Vector graphics images or shapes use paths instead of pixels. This allows artwork to be scaled larger or smaller without any loss of quality
or clarity.
Be sure to convert all fonts to outlines, this ensures that when the file is opened on another system that the font style will not change and
this way you do not have to provide the actual font to us when using your art.
Make sure to embed any linked files and also provide the support files separately. It is always wise to provide a separate flattened (no
layers) JPG or PDF file for viewing, with all high resolution files so it can be double checked with the layered file, so we can make sure
nothing was converted in the transferring of files from you to us.
Illustrator is the preferred vector program and it can also create images that can be separated in Photoshop for screen-printing or used for
DTG printing. It also allows us to manipulate the vectored artwork without having to recreate the art or the layers of the art.
It is better to use raster images created using pixels instead of paths. If artwork is scaled larger be sure to use a minimum of 300 to 600
dpi or a loss of quality will occur. You can save high resolution file format as PSD, EPS, TIFF or Photoshop PDF. Changing the resolution to
300 DPI after creation will not work & the artwork will still be pixilated, blurry and jagged edges & cannot be used for imprinting methods of
any kind.
Photoshop works the best for complex graphics, photorealistic images, cartoonish looks, gradients, shadows and special effects on the
images or text.
Using images found on the web and then making then bigger, will not make a useable artwork or image for imprinting (screen-print,
embroidery, DTG) because all images on the web are primarily 72 DPI and has poor image clarity. If you try to make this bigger it will just
become more pixilated, blurry and jagged.
We can also scan clean, clear drawings or photos that you may want to imprint on an item. If your art files do not meet the above
guidelines we have a graphic design department that can redraw, concept or create a new design for your company, event, school,
advertising campaign or sports team, club. You can call our customer service rep about costs and ideas needed for your new logo.